The Collected Poetry of Langston Hughes In English & Japanese
For Brotherly Love, Freedom, Dream Dust, and Spirituals
Translated by Noriko Mizusaki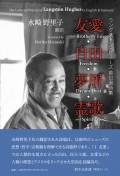 | | |
| --- | --- |
| 2020/01/10 | Maya Inoue A Collection of Poems in English and Japanese『SMALL WORLD』published |
| 2020/01/10 | Hisao Suzuki A Collection of Poems in English and Japanese『PAINS OF EAST ASIA 』published |
| 2013/08/10 | 『A Collection of Poems for Independence, Freedom and Requiem of Vietnam by 175 poets』published |
| 2012/07/19 | 『Farewell to Nuclear, Welcome to Renewable Energy A Collection of Poems by 218 Poets』published |
| 2011/06/15 | web site open |

A collection of Poems
GOD'S TEARS
Reflections on the Atomic Bombs Dropped on Hiroshima and Nagasaki David Krieger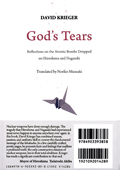 We published this anthology of poems about the Atomic Bombs so that we may not forget the victims of the Atomic Bombs dropped on Hiroshima and Nagasaki on August 6 and 9, 1945. We vowed that the nuclear bombs used in Hiroshima and Nagasaki must be made the first and the last nuclear weapons ever used by humankind. Nuclear weapons should be completely abolished forever. At an earliest time of the 21st century, the Earth must be made a nuclear-free home for humankind. This is our ardent aspiration for publishing this collection of poems. These poems have been written, based on a philosophy rising from the tragedy of Hiroshima.
We send this collection of poems about the Atomic Bombs to all mankind across national boundaries who hate war that destroys the dignity of human beings, and who are against nuclear weapons that can wipe out all life on Earth.
This anthology consists of poems by eminent poets and peace-loving activists who were pioneers in writing poems about the Atomic Bombs with all their hearts and with a fervent prayer for abolishing nuclear weapons; poems by those active poets who have been writing about Hiroshima and Nagasaki as a main theme; and poems by those who wrote in response to our invitation to submit a choice poem against nuclear weapons for this anthology.
We must keep publishing poems against nuclear weapons until the day when weapons of mass destruction will have been abolished; and that day will be the crystallization of our poetic peace movement. We ask all peace-loving poets all over the world to stand in the forefront of the peace movement, to read this anthology, to get inspired by contagious sympathy,and to write poems against nuclear weapons for a future, enlarged edition of the anthology on a global scale. We ask poets all over the world to send their choice poems for consideration for possible inclusion in the future edition to:Editors, "Against Nuclear Weapons"
Coal Sack Publishing Company
2-63-4-509 Itabashi, Itabashi-ku, Tokyo, Japan (173-0004).
e-mail: suzuki@coal-sack.com
However, the number of poems we can include in a new edition will be strictly limited and our judgment is final. We firmly believe that some day poetry about the Atomic Bombs will take root at the bottom of each and every human being's heart as a foundation for peace. Then, the imprinted shadows of those victims of the Atomic Bombs will be released from the stone and they will start talking to us about their indescribable regret and their aspiration for peace.
Our best wishes to all for a peaceful future.
November 2007
Editors
Kozaburo Nagatsu
Hisao Suzuki
Toshio Yamamoto